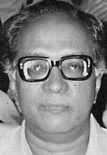 Prof. (Dr.) L P Shah (1936 – 2004)
Prof. (Dr.) L P Shah was Professor and Head, Department of Psychiatry , GSMC & KEM Hospital. He was also In-Charge, De-addiction Centre of Excellence, KEM Hospital. He was a well loved teacher and an examiner, an astute researcher and author. He was a keen administrator, and President of BPS, IPS – West Zone, IPS & many other Psychiatric Associations.
Prof. (Dr.) L P Shah Best Paper Award
Rules
There is no age bar for this award category.
For the sake of uniformity, instructions to the contributors published in the IJP need to be followed.
Research must be based on work done in India.
It must not have been presented in any scientific journal.
The principal author and 50% of all authors must be members of the BPS.
One hard copy and a soft copy of the paper must be sent to us.
Four best papers will be selected for the oral presentation.